Introduction
The UN Task Team on Training, Competencies and Capacity Development was established in February 2019, bringing together 9 countries and 10 international institutions. Its primary goal is to help National Statistical Offices (NSOs) embrace the use of big data in official statistics and is undertaking projects that map out where NSOs currently are on their individual big data journeys, and their current and future development needs. They aim to ensure NSOs are increasingly equipped to work with non-traditional data and to produce statistics that are trustworthy, authoritative and provide value and insight, for the public good.

Delivered to date
The Task Team's Global Assessment of Institutional Readiness for the Use of Big Data in Official Statistics presented findings from an assessment of 109 statistical organisations' readiness (63% response rate). The Assessment considered factors such as strategic data science coordination, legal framework, IT infrastructure and human resources. The report also makes recommendations to guide international organisations and NSOs in adapting to big data requirements, a process with the potential to connect statistical institutions globally and to foster public trust in the acquisition and use of big data.
The Assessment revealed the heterogeneity of NSOs' situations and the need for specific skills, guidance and training. Using these findings, the Team developed a Competency Framework for Big Data Acquisition and Processing. Its goal is to assistNSOs in identifying the skills and knowledge considered relevant for those working with big data for official statistics (see Figure 2). The framework provides guidance for NSOs to:
Assess big data knowledge and skills gaps;
Undertake recruitment for big data posts; and
Develop staff capability for working with big data
The framework reflects the need not only for technical skills, but also soft skills to enable the use of big data.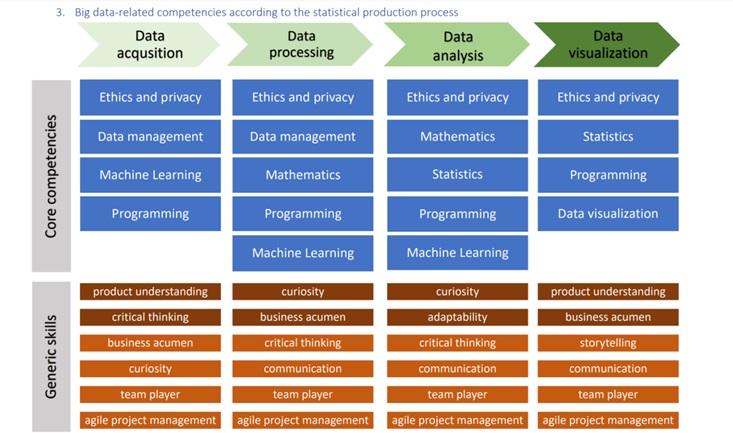 Current and future work
The Team is now developing a UN Big Data Maturity Matrix, to enable NSOs to assess their current level of big data maturity in the dimensions of legal framework, IT infrastructure, human resources and big data applications for official statistics. It aims to highlight gaps within these dimensions, generating an overall picture for the NSO and enabling them to consider, prioritise and plan for their needs. The goal is for increased capability and confidence in working with big data, and the reassurance and subsequent trust that this cultivates.
The Team is also focused on:
Big data training and capacity-building needs of the international official statistics community; developing training materials that map to the Competency Framework or address the gaps highlighted by the Maturity Matrix;
Mechanisms for global delivery of training that is inclusive to all;
Utilising the UN Global Platform for the storage of training products, with links to NSO case studies and big data applications;
Sharing experiences through the development of templates for NSOs to use when negotiating training solutions with their local training centres, innovation centres and/or academic institutions.
Further information
To learn more about the work of the Task Team on Training, Competencies and Capacity Development, you can watch the Team's recent presentation at the 6th International Conference on Big Data for Official Statistics under Session 10, 'Training in Use of New Data Sources and New Technologies'.
The Task Team welcomes a diverse range of representatives to ensure global applicability for all products and outputs. If you are interested in our work and would like to get involved, including with testing the new Big Data Maturity Matrix, please contact us here: bigdata@un.org
These principles are at the core of what World Statistics Day 2020 is recognising this year.
Authors
Ceri Regan
Ceri has been a member of the UN GWG Task Team on Training, Competencies and Capacity Development since June 2019, leading on the development of the UN Big Data Readiness Assessment and NSO Big Data Maturity Matrix, as well as contributing to the UN Big Data Competency Framework and UN Big Data Training Curriculum.
Ceri has over 18 years' experience of designing and delivering analytical and data science training programmes within the Office for National Statistics (ONS) and has been working in an international capacity since September 2017. Ceri has supported data science capacity building through the provision of consultancy to National Statistical Organisations, including the National Statistics Institute of Rwanda (NISR) and the UN Economic Commission for Africa (UNECA).
Rebecca Lynch
Rebecca joined the UN GWG Task Team on Training, Competencies and Capacity Development in January 2020. In her capacity as Data Science Campus International Programme Officer at the Office for National Statistics (ONS), Rebecca has helped to coordinate the UK input to the Task Team project strands, and to manage the sub-working group deliverables.
Before joining the Campus in January 2020, Rebecca worked at Cardiff University as Intervention Development Coordinator for the National Centre for Mental Health, where she developed and managed psychoeducation programmes and patient and public involvement in research. Rebecca has lived and worked in a variety of settings, including China University of Geosciences Beijing and the British Councils in Sri Lanka and Hong Kong.